The History of Carrying Things
From the first satchel used in the 14th century for carrying money and valuables to the Godillot of Paris with the first hinged iron-framed carpet bag in 1826; the concept of a bag or case to carry personal items has remained a constant in our history.
Modernizing Tradition
Today, the global business bag market is over $10 billion a year. And let's face it, as much as business casual is accepted in the modern workplace, people like to coordinate and accessorize and a casual backpack isn't up to par. My goal was to carry some tradition and style from my Dad's executive days in the 50s and 60s to create something smaller, more modern and with the ability to change design, color and texture elements. And this is possible in minutes with one case to accommodate any wardrobe without spending a lot of money on expensive luxury brands.
Backpacks Don't Go with Suits!
First impressions are everything; so why risk yours with the wrong business attire accessory? Today's business professional likely has all their important documents on a laptop, tablet or smartphone. But for those that appreciate fashion and the art of accessories, we have reinvented the old school British symbol of the genteel working professional to create a modern-day, functional case, smaller in size, but bigger in design and peripheral technology thoughtfulness. So when the backpack doesn't cut it, this briefcase will.
Meet the Inventor
One of my prize possessions when I was just starting out in my career was a luxury brown leather briefcase my wide bought me. Then a few days later, I wore a suite with a black belt and black shoes and didn't have the money for another briefcase. My idea was born to change my Dad's Briefcase for everyone forever.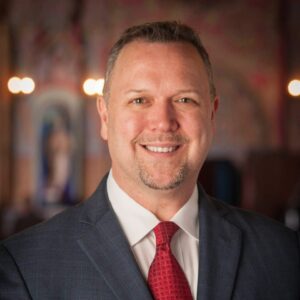 Eric R. Polins
Founder & Inventor
Eric Polins is the recipient of the 2017 Silver Medal by The American Advertising Federation.
Polins has 25 years of marketing and advertising experience with an emphasis on creative direction, writing, broadcast production, and technology. As an alumnus of The Pennsylvania State University, he received a BA in Broadcast Journalism. He is also a former U.S. Marine.
He worked in the Florida motion picture industry and incorporated Gulf+Atlantic Films, Inc. (www.gafilms.com) in late 1998 and remains in the indie film industry to this day. After two years in the film industry, Polins served as a senior member on the creative team of two Tampa-based advertising agencies: Amherst Marketing Associates and The Lipphardt Agency. After The Lipphardt Agency, Polins accepted a position with Inteledigm Communications, a Tampa-based Internet Incubator. There, Polins served as the Marketing Director and created the brand platform for The Agency Applet™ for which he was featured in Adweek Magazine.
Polins is an award-winning PR practitioner with experience in proactive social media and crisis communications management. He is a published author and professional artist. He has written, produced and directed 100+ commercials, films, and videos with awards ranging from Tellys to Addys. He executive produced his first SAG motion picture film in 2006 starring Charles Durning and Gary Busey. In 2010, Polins achieved second place in industry ad giant Ogilvy's "Greatest Sales Person in the World" competition, for which he was the only American finalist out of 18 competing countries; he was flown to Cannes Lions Festival to compete with two other global competitors. Polins wrote and directed two commercials, both named national finalists in the American Airlines "Flights. Camera. Action." film contests and wrote and directed a commercial that was accepted into the last installment of Doritos Crash the Super Bowl 50 Contest.
Polins shares his free time with his wife Maria, two sons, Zane and Lacher, and a rescued Mastiff named Jasper in their South Tampa home.